The 3/50 Project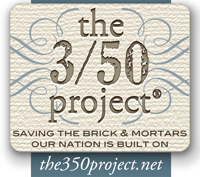 A blog post in March 2009 meant only for a few friends soon became an international movement to support locally owned businesses. Minneapolis-based retail consultant Cinda Baxter posed a simple request: If half of the employed U.S. population chose three locally owned independent businesses they would hate to lose, and then spent a combined total of $50 a month with them, it would have a major impact—generating an estimated $42.6 billion of revenue annually.
She came up with a flier that businesses could hand out to customers that explained the idea and posted it. Within 48 hours, she received more than 350 e-mails from total strangers saying, "This is great. What else have you got?" So she designed a website—www.the350project.net—that she launched a few days later. In the first week, it drew 7,600 visitors.
What caused the groundswell? Perhaps it's the straightforward way Baxter presented the facts: For every $100 spent in locally owned stores, $68 remains in the local economy. In contrast, only $43 of every $100 remains local when spent in national chains*, and little or no local revenue results from online purchases. The 3/50 Project takes a realistic approach. It doesn't ask consumers to stop spending at the big boxes. It just asks them to balance their spending a little better to help keep local businesses in business.
*Source: Civic Economics – Andersonville Study of Retail Economics